Engineering Jobs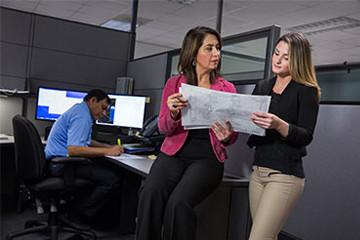 Engineers
Concept to Reality.
Whether working with cryogenic pressure vessels, rotating equipment, heat transfer, vaporizers, piping, or vacuum insulation, you can be creative all day long and watch your ideas turn into reality. The solutions you help design are used for various applications including substituting diesel for Liquefied Natural Gas (LNG), petrochemicals, industrial gases, gas processing and life sciences. Work with some of the industry's best-in-class engineers on a variety of cutting edge projects that have global reach. We have a broad range of engineering, drafting and designing careers that include chemical, electrical, manufacturing, mechanical, project, and welding engineers. We encourage mobility at Chart ensuring continual development of your expertise and abilities. Ultimately, your future is as bright as you choose to make it.
Hey graduates - schools out! We offer a broad range of career and internship opportunities that will help inspire your growth.

There are currently no open positions matching this category or location.
Receive emails by subscribing to jobs matching Engineering Jobs when they are posted.
The 9 most recent jobs posted by Chart Industries are listed below for your convenience.
Watch jobs in this category
Results 1 – 9 of 9
Page 1 of 1
Search results for "". Page 1 of 1, Results 1 to 9
Title
Location
Date
HR Manager

New Prague, MN, United States, 56071

Jun 2, 2020

0.00 mi

MN-New Prague

MN

New-Prague-HR-Business-Partner-MN-56071

Staff Accountant, Corporate Accounting

Canton, GA, United States, 30107

Jun 1, 2020

0.00 mi

GA-Canton

GA

Canton-Staff-Accountant%2C-Corporate-Accounting-GA-30107

Mig and Tig Welder Night Shift (Monday-Thursday 2:45pm-12:45am)

New Prague, MN, United States, 56071

May 23, 2020

0.00 mi

MN-New Prague

MN

New-Prague-Welder-6-Night-Shift-MN-56071

MIG Welder Night Shift (Monday-Thursday 2:45pm-12:55am)

New Prague, MN, United States, 56071

May 23, 2020

0.00 mi

MN-New Prague

MN

New-Prague-MIG-Welder-Night-Shift-%28Monday-Thursday-245pm-1255am%29-MN-56071

Tig Welder Night Shift (Monday-Thursday 2:45pm- 12:45pm)

New Prague, MN, United States, 56071

May 20, 2020

0.00 mi

MN-New Prague

MN

New-Prague-Tig-Welder-Night-Shift-%28Monday-Thursday-245pm-1245pm%29-MN-56071

Tig Welder Day Shift (Monday-Friday 5:45am-2:15pm)

New Prague, MN, United States, 56071

May 20, 2020

0.00 mi

MN-New Prague

MN

New-Prague-Tig-Welder-Day-Shift-%28Monday-Friday-545am-215pm%29-MN-56071

Mig and Tig Welder Day Shift (Monday-Friday 5:45am-2:45pm)

New Prague, MN, United States, 56071

May 13, 2020

0.00 mi

MN-New Prague

MN

New-Prague-Mig-and-Tig-Welder-Day-Shift-%28Monday-Friday-545am-245pm%29-MN-56071

Receiving Clerk

Franklin, IN, United States, 46131

May 11, 2020

0.00 mi

IN-Franklin

IN

Franklin-Receiving-Clerk-IN-46131

Material Handler

New Prague, MN, United States, 56071

May 11, 2020

0.00 mi

MN-New Prague

MN

New-Prague-Material-Handler-MN-56071